Napa Valley is a unique place, from its micro climates and terroir to its raucous history. There is a reason this is a world famous region and a must visit travel destination. Before you plan your next visit to sip through the valley or share a bottle with friends at home, discover what to toast to when it comes to our slice of wine country!
1. Wine has been made in the Napa Valley since the middle of the 19th century, however it wasn't until the 1970s and 80s that its reputation as an undeniably premier wine-making region of the world was firmly planted. A blind tasting victory against the best France had to offer in May of 1976, at what's now known as The Judgement Of Paris, put the world on notice that the wines produced in Napa Valley should also be considered the good stuff.
2. It's well known that 'Cab is King' in Napa Valley, and it takes just a swirl and a sip to understand why Napa Valley's bold cabernet sauvignons are considered among the very best in the world. As Napa's most in-demand varietal, cab sauv accounts for 47% of grapes grown in the Valley and nearly four times that of the next most cultivated varietal, chardonnay. Napa cabs are particularly known for their power and finesse: well-balanced layers of rich and intense flavors that make for a taste that is both concentrated and nuanced.
3. While cabernet sauvignon and chardonnay grapes comprise the bulk of Napa Valley's fruit harvest, the regions highly regarded merlot, sauvignon blanc, and pinot noir deserve just as much of your attention. Want to taste the area from afar? Our online wine shop offers a multitude of delicious options that simply over deliver at their price point.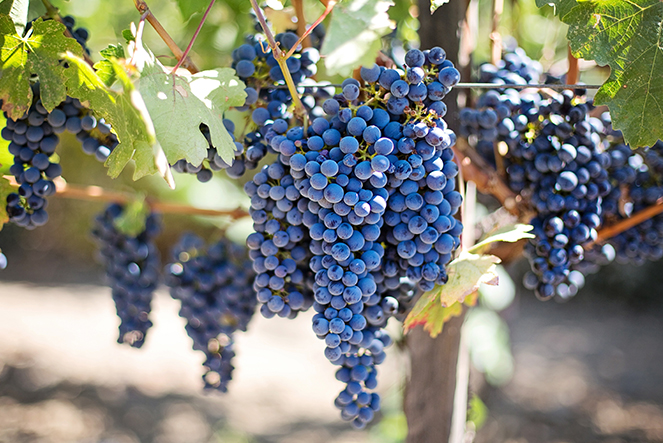 4. It's always a good time to visit the Napa Valley. Arrive in the late summer or early fall for a glimpse of the hustle and bustle of harvest season, the winter during Cabernet Season for intimate tasting experience with smaller crowds and colorful mustard blanketing the vineyards. Or come in spring, when the land awakens from winter and regains its vibrant colors with the vineyard's bud break and plentiful California poppies blanketing The Valley.
5. Looking to (literally) raise your knowledge of the area? Consider a hot air balloon tour over Napa Valley. Take in breathtaking aerial views of this magical corner of the world, while gaining a new perspective on how elevation and sunlight shape the flavors of your wine. Flights happen in the early morning, so while it may be rough to climb out of bed, it's worth it for the epic views of the vineyards and the sparkling wine toast after you land.
6. We offer some of the best Napa Valley wines and you're more than welcome to bring your favorites with you to your Napa Valley dinner reservation. Most restaurants in the area offer corkage, and their expert staff are more than happy to help pair items from their menu to the special wine you've brought for your table.
7. Napa Valley celebrates the good life. You've come for the wine but should take it all in while you're here. The Valley boasts some of the best restaurants in the world, impressive art collections, fantastic performance halls and venues for music and entertainment, cooking courses with renowned chefs, plenty of wine country shopping, and spas for some needed rest and relaxation. When it's all said and done, you may not want to leave.
When it comes to a wine country vacation, you'll be hard pressed to find somewhere better than Napa Valley. The same goes for buying Napa Valley wine. Explore our wines and just as the name suggests, Precision Wine Company presents a distinguished collection of wines to their wine club, each made with precise attention to detail and a commitment to quality from the grapes to the packaging. Our wines are layered with complex and delicious flavors, showcasing the unique characteristics of California's appellations and regions. Cheers!